This article is about commercial bumpers. You may be looking for the short theme of the same name, composed by Kow Otani..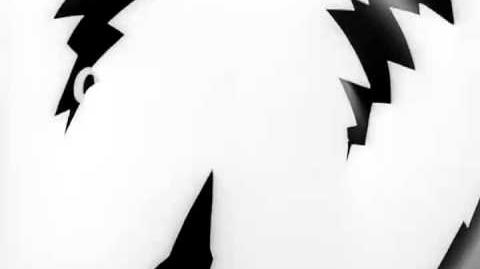 In Japanese media (animated or otherwise), an eyecatch (アイキャッチ, aikyatchi?) or internal eyecatch is a scene or illustration used to begin and end a commercial break in a television program, especially in anime and tokusatsu shows. The term is used, in Japan, to refer to all kinds of bumpers.
Sunrise Media
Outlaw Star
In Outlaw Star the end of an episode's section is marked by the sound of a gun firing multiple rounds that spell out the series name against a white background in normalized font.[1] The weapon clicks and the stylized logo appears against a inverted background in white font.
The beginning of the episode's eyecatch repeats with a short theme and rapid fire from the gun against the inverted background in normalized font before reverting to a white background. The gun clicks again and the reveals the series' stylized logo in white.[1]
Angel Links
In Angel Links, the end of the first part of an episode is refereed to as a "intermission", invoking the theatrical or cinematic use of the term.[2] The Links Group "Angel Links" logo is repeated in the background like a wallpaper and large cursive in the foreground. Unlike the eyecatch for Outlaw Star, the Angel Links eyecatch never repeats itself to signify the beginning of second part of the episode and uses the fading soundtrack of the concluding scene.[2]
Gallery
Outlaw Star
Angel Links
References
Ad blocker interference detected!
Wikia is a free-to-use site that makes money from advertising. We have a modified experience for viewers using ad blockers

Wikia is not accessible if you've made further modifications. Remove the custom ad blocker rule(s) and the page will load as expected.