Gene Starwind
Comment

1
37pages on
this wiki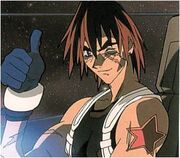 Gene Starwind
Voiced by: Shigeru Shibuya (Japanese), Bob Buchholz (English) Gene Starwind (ジーン・スターウインド, Jīn Sutāuindo?) is a 20-year-old man who developed a fear of space flight and a hatred of pirates during an attack when he was 15. This attack resulted in his father's death at the hands of a band of mercenaries led by Ron MacDougall. Gene was thrown into an escape pod moments before their ship exploded, and landed on Sentinel III where he would remain until the beginning of the series. Until Hilda questions him, "Are you going to keep running away?" and Gene responds, "Keep running away?", Gene is scared of space. Hilda's questioning of his courage is the turning point, however, and Gene's fear of space gradually begins to fade.
While on Sentinel III, Gene met the much younger Jim Hawking and the two went into business, forming a company called Starwind and Hawking Enterprises. Gene is a reckless ladies' man and a bit of a pervert who shamelessly flirts with almost every woman he meets; he would rather try to achieve his goals with a minimum of effort, and his reckless attitude proves a continuous source of frustration to Jim. He has shown that he is almost never open about his feelings, however he has opened up to Suzuka on occasion. Despite his brash nature, Gene does have a caring side to his personality which he usually displays toward Melfina. After realizing Melfina had no recollection of her purpose or function, Gene promises to help her find her past and protects her from the various individuals in pursuit of her. Throughout the course of the series, he begins to develop feelings for her, but is hesitant to act on them for fear of making himself vulnerable. It also results in him forming an antagonistic rivalry with Harry MacDougal, who is far more open in his pursuit of Melfina's affection.
Gene is well armed with a variety of weapons, including a pistol, grenade launcher, knife, rocket launcher, etc. His special weapon, a Caster gun, fires special Caster shells; magic bullets that are effective against Tao priests and other entities protected against normal weaponry. Caster shells are projectile capsules containing a spell cast by a wizard that has been contained, allowing non-magic users to fire the spell from a gun. Caster shells are also numbered by power level (although not incrementally), the three most powerful being 4, 9, and 13. Caster shells are considered antiques, however, and are difficult to acquire. Some of the effects of the caster shells include opening up small controlled black holes in order to absorb an opponent, as seen by the shell being used effectively against Hamushi and ineffectively against Hazanko. Gene only reserves these particular caster shells for powerful opponents, since they carry the extreme danger of killing him if he uses them consecutively. Gene's ear piercings are also incredibly useful to him, as they possess a communication device that serves like a two-way radio which allows him keep in contact with Jim, who holds the other communicator piercing.
Gene bears many scars all over his body, a testament to the hardships that he has endured over his lifetime. The most noticeable are the two on his left cheek, just below his eye. These were all probably made after his father's ship was destroyed and he crashed on Sentinel III. In addition, Gene's name could be an oblique reference to Gene Roddenberry, the creator of Star Trek.